Volunteers for our Charity Shop, Thurles
Do you have a few hours free a week? Would you like to meet a new circle of friends?
Volunteering is a great opportunity to meet people, have fun, and help to support the great work we do at Anew.If you're interested in helping out, and you have three hours or more to spare each week, we'd love to hear from you.We'll provide you with full training, so no prior experience is needed. Please contact us and we would be delighted to give you more details.
What's new with Anew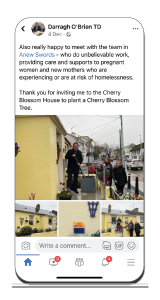 Minister Visits Cherry Blossom Cottage
We were delighted to welcome Minister Darragh O'Brien to Anew's wonderful service in Swords, earlier this month. We planted a beautiful Cherry Blossom tree together!
Anew Receives Charity Impact Award
Anew has been honoured at the 2019 Charity Impact Awards held at the Mansion House in Dublin.
Presented by The Wheel, the national association of charities, community and voluntary organisations and social enterprises, the Charity Impact Awards celebrate the positive impact these organisations, and the individuals behind them, make in the lives of millions of people in Ireland and beyond.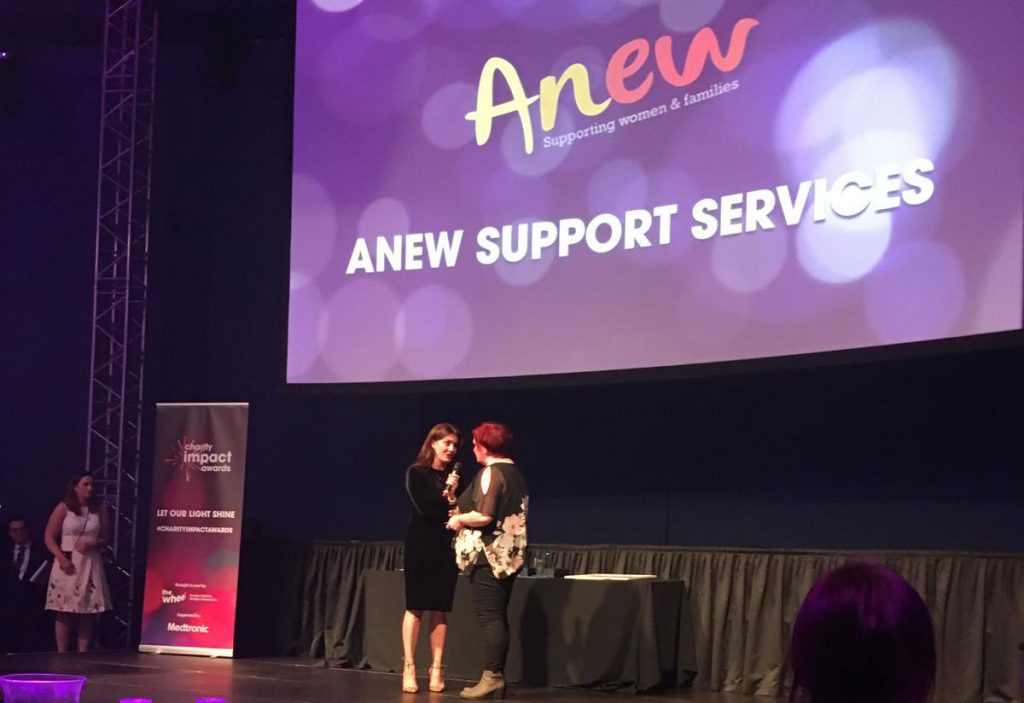 Congratulating the winners, Deirdre Garvey, CEO of The Wheel said, "Each of the 99 organisations and individuals who were nominated for this year's Charity Impact Awards makes a huge difference to the communities they work with, and we are delighted to honour and celebrate their achievements. The Wheel is passionate and determined to support the remarkable people and organisations who work so hard and single-mindedly to ensure that equality, fairness, opportunity and participation remain central to our national identity."
Anew received the Impact Award for Medium-sized Organisations.
For more information on the Charity Impact Awards and the winners visit Charity Impact Awards.
Watch this video to hear about Anew's work, vision and mission.
Anew Shortlisted for Award
Anew was nominated in the Community Integration Category for the 2019 Irish Council for Social Housing Awards.
The ICSH Biennial National Social Housing Conference 2019 (supported by AIB) were held on 10th and 11th October 2019  at Whites Hotel, Wexford. The 2019 conference also included the Biennial Community Housing Awards 2019.