Anew is governed by a Board of Directors with skills in the following areas:
Legal
Accounting and Finance
Human Resources
Facility Management
Clinical Practice
Education
Our Board Members are: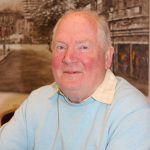 Pat O'Kane
Chairperson
Pat O'Kane Msc.(Master of Science with distinction from Ulster University) in Business Improvement. Pat is a retired Banking Executive, with many years experience in Retail Banking and, latterly, Head of Business Transformation for Northern Ireland.
---

Moira Morrissey
Company Secretary
Moira Morrissey is married to Connie, a Beef/Dairy farmer in Co. Tipperary and has five children and four grandchildren. She previously worked in the banking sector and holds a B.A. in Theology. Moira was involved in the establishment of the Anew Thurles centre in 1996, where she is currently the chairwoman, and opened the first Anew Charity shop in Thurles in 2012. In addition to her activities with Anew CLG, she is involved in her Tidy Towns local committee.
---
Stephen Moore Board Member Stephen Moore is a qualified surveyor and he holds a Master's Degree in Business. He has many years' experience in the construction, banking and property industries. His company Byrne & Moore Property Consultants provides professional property services to owners and investors of residential and commercial properties in Ireland and abroad. In his spare time he is an active member of Pulse Triathlon Club.

---

Eanna Hickey Board Member Eanna is a qualified barrister with more than two decades of experience as a legal advisor, working in a variety of contexts. This has included advocacy in civil and criminal matters, as well as investigative and advisory work for a variety of statutory and non-statutory inquiries.

---

John Hanafin Board Member John Hanafin was a member of Seanad Éireann from 2002 to 2011 and was a member of North Tipperary County Council representing the Thurles area from 1988 to 2003.

---

Claude Daboul Board Member Claude Daboul an Irish national, was born and educated in Lebanon. Worked in various countries around the world, Cyprus, Kuwait and Bahrain and in 1999 she got lucky and was offered a job with Allianz Worldwide Care in Ireland. Allianz Worldwide Care, a wholly owned subsidiary of Allianz SE, was a start up operation, Claude joined as part of the Project Establishment Team, since then the company has grown to become an industry leader with many multinational clients from all over the world on its books, expanded into new regions and set up remote operations. Allianz Worldwide Care provides health, life and disability insurance for the international market. Claude stayed with the company for almost 16 years as Director, Sales, Marketing & Operations.
After travelling and doing some consultancy work Claude worked as a Managing Director with UnitedHealthcare Global in Dublin from Oct. 2017 until April 2019.

---

Helen McEvoy Board Member Helen is a transformation consultant with experience across financial services, telecommunication and the utility industries. With extensive expertise in developing strategies and support models for organisational and cultural change, since 2017 Helen has been working with Allianz Care to build solutions that bring improved health care cover to a global market. In her spare time Helen is an avid reader and dreamer.

---

Joanne Ryan Joanne is a qualified actuary with 20 years' experience in the financial services industry. She is a fellow of the Society of Actuaries in Ireland and the Institute & Faculty of Actuaries in the UK and is currently the Chief Risk & Compliance Officer of a financial services company. Joanne has extensive experience in the areas of risk management, compliance, corporate governance, anti-money laundering and data protection and holds additional qualifications in Compliance (LCOI), financial advice (QFA), Data Protection (Qualified Data Protection Practitioner) and Insurance law (Diploma in Insurance Law from the Law Society).