Meet our team
Our team are committed to advocating for, supporting and providing the highest level of care to those who access our services.
With a vast range of experience, the Anew team embody our values of care and compassion and illustrate all that Anew stands for in the work that they carry out on a daily basis. 

Marian Barnard
Marian has worked in the not-for-profit sector for over 20 years, specialising in governance, compliance and strategic development.
Having joined Anew in 2015, Marian was instrumental in the transformation of the organisation from a mainly counselling service to one which addresses the practical and emotional needs of pregnant women experiencing homelessness today. This entailed building a multi-disciplinary team to work with pregnant women and new mothers who find themselves homeless, often as a direct result of their pregnancy. This resulted in the niche bespoke services in Anew today.
In her spare time, Marian supports the Board of her local Credit Union around training and strategy. In addition she provides training and consultancy around governance and risk in the charity sector. Marian has a masters degree in co-operative and social enterprise and a certificate in Charity Law.
Marian lives in Portarlington with her husband Gary and three teenagers/young adults; Grace, Maeve and Joseph. 
Norma Fitzgerald
Norma joined Anew in August 2017 and took up the role of Senior Services Manager in February 2023. She has extensive experience working with woman and teenage girls. Norma initially trained as a Childrens Nurse in Temple St but soon moved to social care working with teenage girls in Lefroy House on Eden Quay. She then moved to Oberstown Girls school where she remained for over 20 years. Her career in Oberstown had many twists and turns where she eventually became a manager for 10 years. The highlight off her career in Oberstown was opening the Stepdown and Outreach for service for the Girls school better known as Lilac House
Outside of work Norma likes to walk with her dog Bruce and spend time with her husband Tom and three adult sons and their wives. She especially enjoys  her two granddaughters Sophia and Alannah.
Grainne Bollard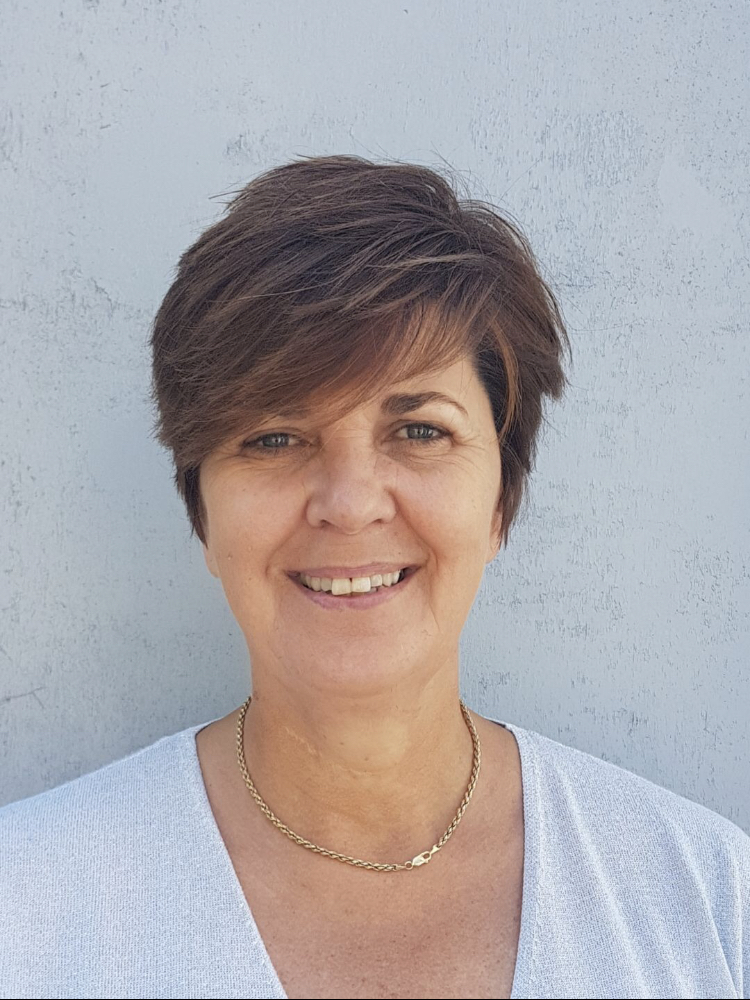 Grainne joined us in 2019 as a social care worker, and took up the role of Team Leader  in April 2023. Grainne works as part of our multi-disciplinary team providing intensive support for the women that we work with, both during and after their pregnancies. With a focus on areas like positive parenting, life skills and practical support, Grainne also provides outreach support and meets with our women and their babies on a regular basis. 
With extensive experience working in residential settings, Grainne brings vast amounts of knowledge and skills in identifying needs, building positive relationships and providing individually tailored care programmes. 
Outside of work, Grainne volunteers with Pieta House and loves to spend time with her husband Dermot and two sons Cathal and Sean. 
Emer Slocket
Emer joined the Anew team May 2023. She has previous experience in the homelessness sector, having worked previously in a Salvation Army Family Hub in Dublin.  She has also volunteered in Dublin Simon, creating and facilitating a creative arts course for a drugs detox service.  Emer was educated in both Canada and Ireland, earning a BA in English and Psychology from Wilfrid Laurier University and a MA in Addiction Studies from Dublin Business School.
Emer enjoys taking long walks with her husband John, her two daughters, ages 12 and 9, and their little pug. 
Sharon Culliton
Sharon joined the Anew team in January 2020. She is a fellow of the Association of Chartered Certified Accountants and a Business Studies (Finance) graduate from Dublin City University with vast experience in industry. In 2007 she became a director of and works on a consultancy basis for a family-owned financial consultancy business, Foresthill Consultancy Services Limited. Prior to this she worked for many big corporates and smaller enterprises as Financial/Management Accountant, including DCC plc, FiberTech, Deutsch International, Enva Ireland and Skout Cybersecurity.
Sharon has many interests outside her professional life but endeavours to bring her skillset to practical use in various voluntary capacities. She completed four years as Chairperson in her local community credit union having served on the Board for seven years. She was also a member of its committees including strategic planning, credit control and executive.
Sharon also served as Lady Captain in Portarlington Golf Club in 2011 and has accepted the position of Lady President for 2023 which fulfils her keen interest in golf and utilising her professional skills for the betterment of a voluntary run organisation.